Restoring Your Damaged Teeth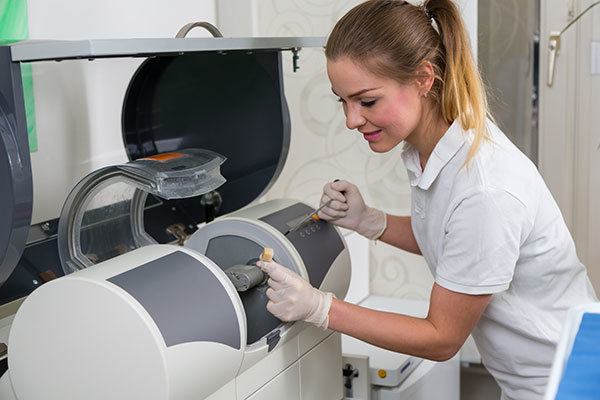 Dental crowns are designed to restore damaged teeth. They are specially created to fit over your tooth, covering the entire visible portion of the tooth to protect it from further damage and restore its shape, appearance and strength.
Schedule your dental crown appointment today!
Why Dental Crowns?
Our dentists typically recommend dental crowns when teeth have sustained significant damage or decay. However, crowns are a multi-purpose restoration and may be provided for any number of restorative or cosmetic purposes, such as:
Protecting and restoring a tooth following a root canal
Anchoring a dental bridge
Covering and completing a dental implant
Improving the appearance of your teeth and smile
Improving a misshapen tooth
Strengthening and protecting fractured or weakened teeth
Supporting a tooth which already has a large filling
Schedule your dental crown appointment today!
CEREC Technology and Dental Crowns
Traditionally dental crowns have required two appointments to complete and have been made from a variety of materials. However, at Everest Dental PC we have chosen to provide only tooth-colored dental crowns and to use state-of-the-art CEREC technology to complete your treatment in a single visit. CEREC uses CAD/CAM (Computer-Aided Design/Computer-Aided Manufacturing) technology, which allows our dentists to design, mill and place your crown in a single visit. The process is simple:
A thorough examination is performed to determine that a crown is the right treatment for you
Weakened, decayed, or damaged tooth material is removed
A digital photo is taken to convert into a digital 3D model
A restoration is custom-designed based on the model
The crown is then milled, check to ensure it fits and bonded into place
Schedule your dental crown appointment today!
Naturally Beautiful and Aesthetic Restorations
Only tooth-colored material is used when creating your crown. Our practice uses the Empress® restorations system to ensure that your crown is of the highest quality and is both durable and aesthetically pleasing. Empress restorations is a world leader in dental ceramics, and restorations created by this system use special heat-pressed ceramic and a unique veneer glaze which increases the strength of the restoration.
Schedule Your Appointment Today!
We invite you to call our office to schedule your consultation with Dr. Lisha Shrestha and Dr. Asha Gulati to learn more about CEREC same-day dental crowns in White Plains, New York, and how this restoration can benefit you. We look forward to helping you regain a healthy smile!
Schedule your dental crown appointment today!
Please view the video below to learn more!