When examining your mouth, our dentists and team may use an intraoral camera. This small imaging device can comfortably fit in your mouth to view even the most difficult-to-reach areas. Call Everest Dental PC today to find out more about intraoral cameras in White Plains, New York, and make an appointment with Dr. Lisha Shrestha and Dr. Asha Gulati.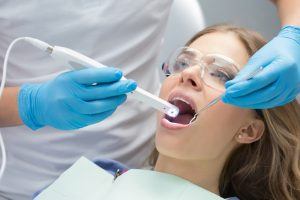 In order to provide the best, most effective dental care, our team must first have a complete understanding of your mouth's condition and any potential issues that may be affecting your smile. At our office, we use a Primescan intraoral camera to do just that. This small, pen-shaped device can provide high-quality color images of your whole smile, helping our dentists identify and diagnose problems such as tooth decay, gum disease or damaged teeth. Because of it's convenient size and shape, this camera can show us your mouth from angles that would otherwise be difficult to see. Not only does this help us plan the most effective treatments, but it is also an important tool for monitoring your smile and ensuring dental treatments are progressing as planned.
The benefit of our Primescan images is that they can be easily shared with our patients as well, making them a valuable tool in for patient education as well as treatment planning. They can also be shared with other dental professionals, specialists and insurance companies as needed. To learn more and see how our team can use our intraoral camera to improve your appointment, call or visit our office today.